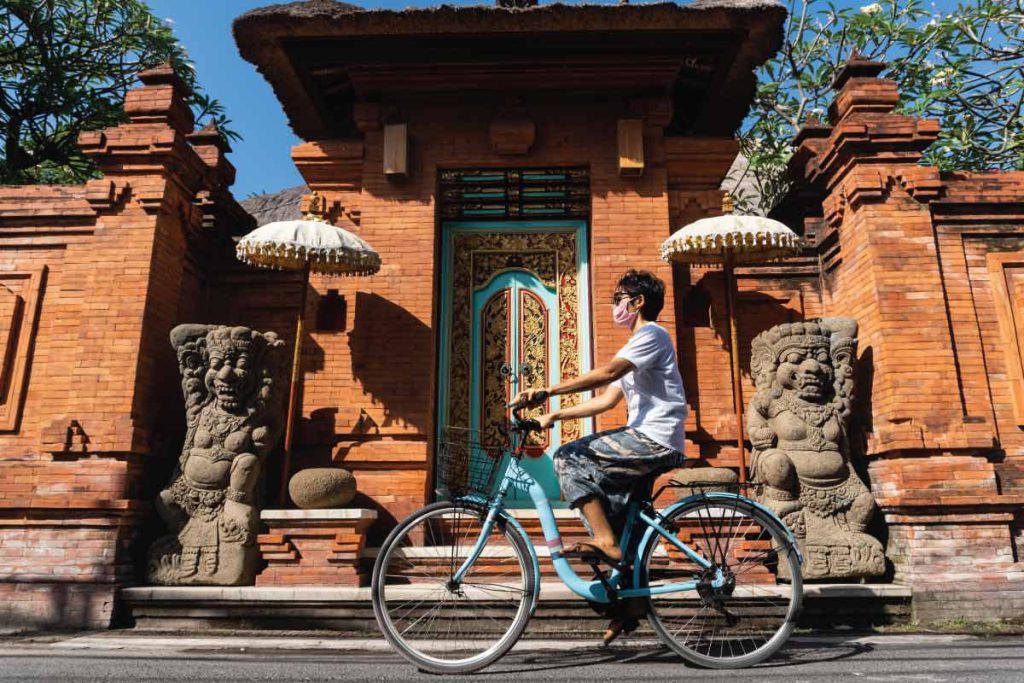 As a means of transportation, bicycles can take us to explore nature. The difference is, if you use motorized transportation, we just sit back. By cycling, this exploration can be done while training the muscles of our body and heart.
Among the many tourist sites in Indonesia, Bali always has a place in the heart. Its spectacular natural beauty can always attract tourists, as well as those who like cycling. It's no wonder that cycling on the Island of the Gods has become one of the cyclists' wishlists.
If you really plan on cycling in Bali and start looking for a route you want to try, one option that is quite popular is the cycling path in Ubud. But it turns out that it's not only the Ubud area that is worth exploring with your favorite bicycle. Here's a look at 5 cycling paths in Bali that are no less spectacular than the cycling paths in Ubud.
Cycling while living the tradition at Penglipuran Tourism Village
Located in Bangli Regency, Bali, this tourist village is one of the mandatory tourist destinations if you visit the Island of the Gods. In addition to seeing the beautiful nature, we can also see the well-ordered traditional village life. Penglipuran Village makes Indonesia proud because it has been named one of the three cleanest villages in the world. This village has also won several awards, including Kalpataru, ISTA (Indonesia Sustainable Tourism Award) and got included in the Top 100 Sustainable Destinations of the Green Destinations Foundation.
To enjoy the beauty and peek at the traditional life in this tourist village, besides walking, you can also do a bicycle tour. In addition to bringing your own bicycle, you can also register for bicycle tours offered by tour bureaus around the location.
You can also join a tour to explore 2 other tourist villages around Penglipuran, namely Kayang Village which is located to the north of Penglipuran Village and Pule Village. All three have their own charm.
As a starting point, you will usually start from Kayang Village and then proceed to Penglipuran Village. Entering the Penglipuran Tourism Village area, tourists will be greeted by the unique bamboo forest. After that you can walk through the village and visit the typical traditional houses there. Then the journey will continue to Kehen Temple.
Traveling to Pule Tourism Village, tourists will be pampered with rural nuances and views of the vast expanse of rice fields. When the weather is clear, you can take photos with the rice fields and Mount Agung as the background. Not inferior to the cycling path in Ubud. Here you can also visit Asta Kosala Kosali or traditional Balinese houses with the same arrangement and design.
This cycling tour will usually take approximately 4 hours at a rate of around IDR 500k to 750k per person, including bicycle rental, guides, drinks, and lunch. Highly recommended for you newbie cyclists who want to have a relaxing trip while enjoying traditional Balinese nuances.
Cycling with the background of the iconic Jatiluwih rice terraces
Bali is indeed famous for its views of rice fields with very wide and green steps. Jatiluwih Tourism Village is one of the destinations that you must visit if you want to see the beautiful rice fields in Bali. So iconic, UNESCO has even designated Jatiluwih as one of the world's cultural heritages.
To enjoy the natural panorama of Jatiluwih, you can cycle along the village streets for two hours. Here there are 17 cycling routes that you can try with quite challenging terrain, namely passing through rice fields and residential areas. Of course, you can't get the fresh air while cycling in the middle of the city. Guaranteed to refresh the mind.
The cycling route in Jatiluwih can be started from Batukaru Temple, which is located at the foot of Mount Batukaru, the second highest mountain in Bali after Mount Agung. This temple is located at an altitude of 800 meters above sea level.
Jatiluwih village is also a red rice producing village. To relieve fatigue, try to feel the sensation of brown rice tea made from dry rice. This brown rice tea is also a souvenir from Jatiluwih which was bought by the former President of the United States, Barack Obama, when he visited here.
Cycling while breathing fresh air in Sudaji Village
This village is indeed less prestigious when compared to Penglipuran Village. But that doesn't mean it's not special, you know. Ever heard of Sekumpul waterfalls? This very beautiful (also instagrammable) waterfall is one of the many attractions that Sudaji Village has to offer.
Sudaji Village is located approximately 90 kilometers from I Gusti Ngurah Rai International Airport or can be reached within 30 minutes from the center of Singaraja City, Buleleng. This tourist destination is one of the oldest villages in Bali.
Located in the highlands, Sudaji Village has a cool climate with green areas with plantations, rice fields, and forests. The fertile soil is ideal for use as land for planting various garden products such as rice and beans. The area is also famous for seasonal garden produce such as mangosteen, durian, and mango.
You can explore Sudaji Village which has an area of ​​1,800 square km by bicycle. Cycling routes here run through valleys and mountains, with on-road and off-road trails. After walking through the plantation, you can continue your journey to the Sekumpul waterfall which is located about 4 kilometers from this village. You can rest and refresh your body by swimming here!
Cycling while enjoying the sunrise at Sanur Beach
In addition to the feel of rice fields, Bali is already known for its beautiful beaches. Want to ride a bike while enjoying the breeze of the sea and the atmosphere of the sunrise? Take a bike ride at Karang Sanur Beach or the so-called Morning of the World which is one of the best places to see the sunrise.
If you are lucky and the weather is clear, you can see Mount Agung and Nusa Penida Island across the sea from the beach. This beach also tends to be quiet, unlike Kuta Beach which is often crowded with visitors.
The bicycle path here has a length of approximately 4.2 kilometers which can be reached within an hour of cycling. In addition to bringing your own bicycle, you can also rent a bicycle at a rate of five thousand rupiah per hour.
Cycling along Sanur Beach, you will also pass through the area of ​​contemporary cafes with a variety of dishes, from traditional to international. After the ride, you can stop by for coffee or a delicious breakfast at one of these cafes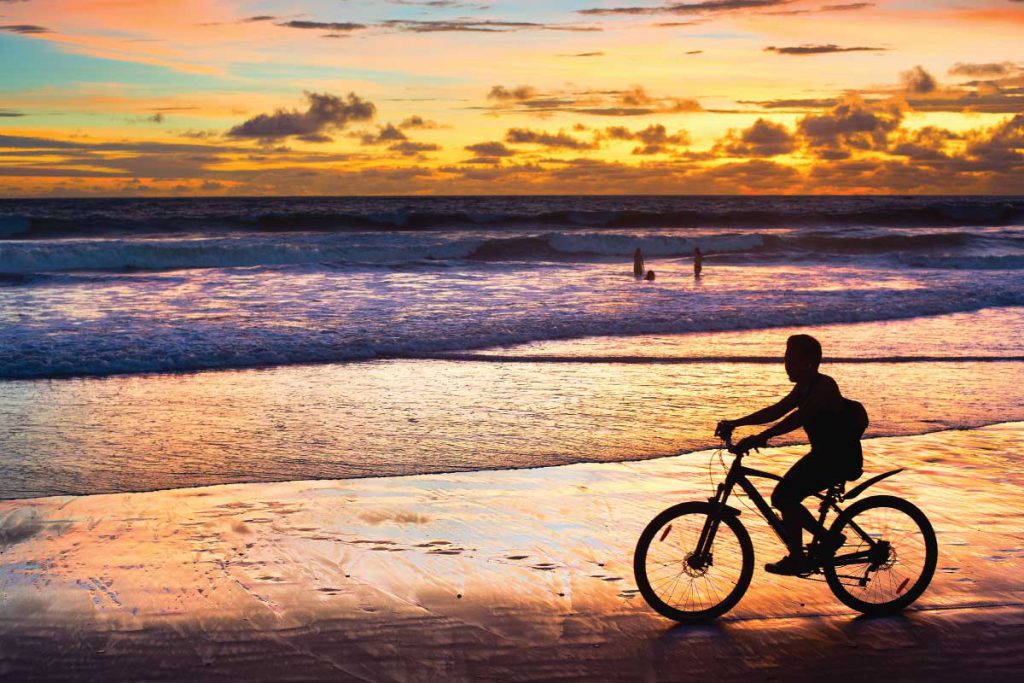 Cycling and stopping by to enjoy a cup of Java above the clouds on the Kintamani trail
No debate, this cycling path in Kintamani is a unique experience that will leave an imprint on the heart. Besides being pampered by the green scenery, you will be amazed by the charm of Mount Batur which is visible from here. No wonder this route is one of the favorite routes for cycling in Bali.
Before traveling by bicycle, you can sip a delicious hot coffee. Kintamani is indeed famous as a coffee-producing plantation area. In the morning, when the weather is friendly, the collection of clouds will look beautiful and so close that you feel as if you are above the clouds.
After coffee you can start cycling along the main route of Mount Batur. You will pass orange plantations owned by residents and pass Bayung Gede Village. This village is an old village with a unique tradition, namely storing the placenta of a newborn baby in a coconut shell and hanging it on a tree.
This cycling route from Kintamani will end in Ubud, with a 23-kilometer track. The Kintamani – Ubud route is a downhill route via on-road roads, making it suitable for newbie cyclists. In addition to using your own bicycle, you can also rent or book a bike tour at a rate of around IDR 400-500k.
---
Sumber: